Unsere Ideenfang Gruppe war auf der IdeenExpo 2015 in Hannover.
Wir finden die "Anarmorphen Zerrbilder" vom Rahel-Varnhagen-Kolleg Hagen besonders gut. Das war eine andere Ideenfang Gruppe.
Und nun liegt dieses Exponat in unserer Pausenhalle!
Wir danken allen, die beim Kungeln geholfen haben. (Birgit von der Dr. Georg-August-Zinn-Schule Gesamtschule in Gudensberg hat am Sonntag den entscheidenden Tipp gegeben).
Thank you for this cube! Thank you for this cube! Thank you!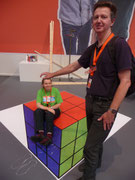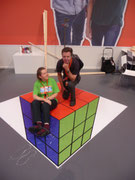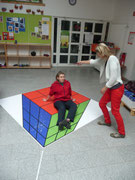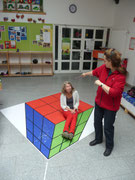 Googeln und Kugeln
Spheres, Stars and Soccerball
A Rhombic Triacontahedron Puzzle will be create.
First I have built a paper modell.
The ball is discovered with 30 rhombus at the surface.
The Puzzle is built by 30 colored rhombus and 90 nocolor rhombus at the surfaces.
I have seven colored flat "prisma",
and three nocolored flat "prisma".
Also 9 colored wide "prisma",
and 1 nocolored wide "prisma".
All together I have 20 puzzlepieces.
I will sew this puzzle with fabric.
I will named it the
"archäology ball".
There was a workshop in Finland for this
Rhombic Triacontahedron Puzzle:
With George Hart und Elisabeth Heathfield.
But I will change the surface of my
rhombic triacontahedron puzzle with the pattern from my
"Facettenball", I have sewed this Ball in the year 2011.
I have found the grafic for this "Facettenball",
when I have visited the webpage of
Eduard Baumann in Switzerland.
You can discover 21 Equator on this "Facettenball".